Friday 4 March 2011 - Pascal's wedding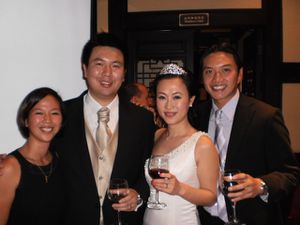 During my break between my two visas, there was two people I visited in Asia. It was Pascal in Hong Kong and Virak in Kuala Lumpur. Both are childhood friends and I knew Pascal since I am four. We actually met again in mainland China this time for Pascal's wedding.
Who would have thought that time would have flown so fast. I actually met his wife when I was visiting in Hong Kong back in 2008 and at that time, I was already talking about her like she was the One. And now we are, three years after, to celebrate this unique moment all together.
What I really appreciated was the opportunity to spend some quality time with the groom and bride while sharing a brunch the day after and while spending two days travelling in the area (Chengdu and Mount Emei in Sichuan region). I was thinking to myself that now that we are all apart, we don't get the opportunity to see each other so often, especially when I live in Australia, the country where everything is far away (it took me 12h-13h to fly from Sydney to Chengdu via Hong Kong)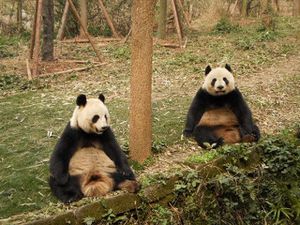 Otherwise China was a pleasant surprise. Chengdu is supposed to be a second-tier city, being the 4th biggest town after Shanghai, Beijing and Shenzhen. Still, there are 14 million people living in this city and it makes it three or four times bigger than Sydney. Let's put it this way, we are quite behind and they are getting more and more ahead every day. Those guys are really driven by success and discussions revolve around creating businesses and being millionaire in one year. How Chinese people do not hesitate to work week-end and nights just to get more money, because the number one thing which counts to prove you are successful is to be able to buy the most expensive things.
One interesting thing was mentioned by one of the guest who owns two coffee shops. She said that generation of only children born in the 90's was a spoiled generation: They don't want to work hard, they can't commit to any work, they can't bear any criticism and they want everything to be easy and immediate. She said to me that she didn't have that issue with only children from 80's. As an example, she said that a high proportion of the 90's didn't turn up to her shop when she agreed to hire them for a certain time and money. She says they don't understand the value of capitalizing your work experience in one place and grow from there. They wouldn't even call to say they wouldn't come. They would say that there is not point to stick to one place for a low paid job if you don't like it when you can change to any other place the day after...
Partager cet article