November-December 2012 Amazing India
India was a place I always wanted to visit. So when one of my friends said that I could be invited to an India wedding, I couldn't help and be excited by the news. It was a really a one-time life experience, a three day celebration (1- bride preparation, 2-spiritual ceremony, 3- actual wedding with hundreds of guests) and I was blown away by the extent of things which are required to attend the actual ceremonies.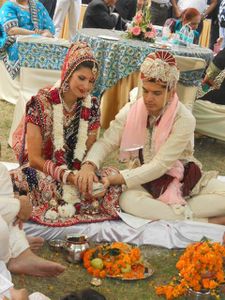 The first day was the more intimate ceremony (150 guests-ish) where we went to the bride's (actually the groom's as he is Indian and she is German) for her preparation, which include some hennea tatoo on her legs and arms. There was some traditional dancing and walking in the neighbourhood. My favourite day was the 2nd with the different religious ceremonies and blessings. It was very different and very typical from a cultural perspective. The most impressive was the third day where it was like a mini-Darling Harbour festival with professional dancers, singers, fire blowers on a stage, plus 15+ booths with their individual cooks each.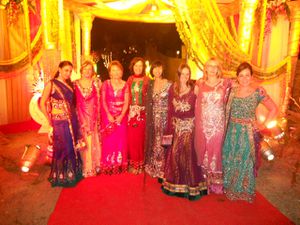 Obviously, it was also the opportunity to travel around the India, but the country is big and the bullet train inexistent. So we stayed in the North-East part of the country (Rajasthan) where we visited the Taj Mahal, Varanasi the Holy City (Gange river and their burial ceremonies), Kajuraho the Kama Sutra city, Udaipur where James Bond screened Octopussy, and obviously a lot of exotic places like Jasalmer, Jaipur, Jodhpur and Delhi. Oh! And we saw some tigers in the wild.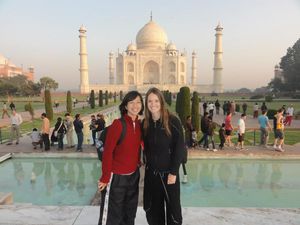 Fortunately enough I wasn't too sick: just one day and this is because I dared drinking some chai tea on the street. Never ever again. But curiously enough, since I came back, I only drink Chai Latte now :) I found that Delhi was on the trails of Hong Kong, a big massive modern city, but the rest of India made me realised that it was still a developping country. We meet a lot of people who couldn't read and write. Medicare and retirement are not readily available for everyone. Corruption is still creeping. 90% of the weddings are arranged (well that's more cultural). And the caste system is still very alive as well as the gender roles. We didn't have any major problems for two women travelling on their own and sleeping in most nights on trains. We discovered that it was also a challenge for Indians to book trains so my BFF was very proud of herself when she managed to book everything on her own. I still thank her for her patience and persistence toward that perculiar and mercurial IRTCC website ! Anyway It was good to see it with my own eyesn one of the famous BRIC countries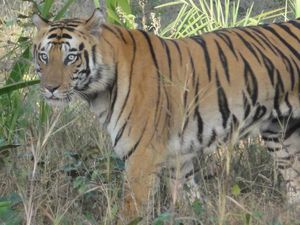 Partager cet article