Saturday 25 December 2010 - Merry Christmas
It is the first time I was organizing a Christmas Picnic Lunch for Newcomers Network and Sue, the founder located in Melbourne, asked me to pick a symbolic area. So instead of choosing the typical Christmas barbecue (Bondi, Manly, Coogee, Tamarama or Bronte), I decided to do it next to the Sydney Opera House, at the Royal Botanical Garden, thinking there would be only three divorced women attending, but no, I was quite surprised to have nearly twenty people attending with fifteen different nationalities. It was very nice because nobody knew anybody and all of them were open minded and willing to mingle around and that is what I like about those meet-ups.
Merry Christmas all and have a Happy New Year !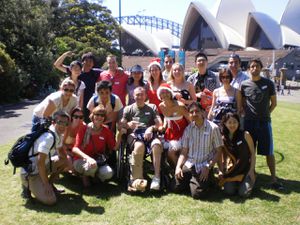 Partager cet article