Week-end 10-11 September 2011 - Down Under Expo & Speaking In Public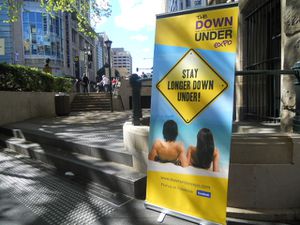 Through Newcomers Network, I had the opportunity to be part of the exhibitors and see what the Down Under Expo (Sydney Town Hall) was all about. When you enter into it, at first, you should it is pretty small... But when you look closer, you would think "Well who do I want to see ? Recruiters, Australia Tax Office (ATO), NSW Government, Department of Immigration and Citizenship (DIAC), Migrations agents, lawyers, IELTS..." Anyone who can help you find a job, process your visa and get settle in Down Under. I didn't see any of the famour recruitment companies such as Michael Page or Hays... It could have been good to see them since they have an important part in the process of job search for migrants.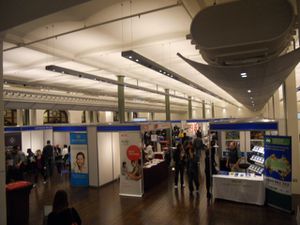 The entrance was $10 and there were seminars talking about work opportunies in regional NSW and Sydney. Also additional work openings in WA region, sessions about Skilled and Sponsored Permanent Residency by the DIAC and migration agents, seminars about tax as a foreigner by the ATO and services they could provide (really?)... And of course Newcomers Network about tips and advises on how to expant your network.
To be totally honest, I am terrified of speaking in public. My voice trembles, I shake, I can't make any sentences properly... I already speak too fast in French but when it comes to presentations, it is a nightmare...And I believe the education system in France doesn't encourage kids and teenages to be comfortable in front of big crowds. I had to wait to attend a business school to be forced to present in front of a small group of uninterested mates. The Australian education system is different since it is more appraisal based. Some of friends are parents and they say that their children are encouraged from pre-school to stand up and present anything every week to their schoolmates topics such as "This is my favourite toy and why" or "I am the captain of the team and this is what I do", etc, etc... Plus they get awards for nearly anything every week (i.e you learnt that 2+2=4 or you gave your book to your mate) and of course, everyone has his/her turn... To the extent, that once, they had an encounter where the daughter (aged 4) came and said very naturally "I am the best"... When I think about French education, I mainly reminder punishment... We don't have those big ceremonies of graduations in universities like they do in Australia, for example. There is not really something to boost kids egos, except maybe from sport ???? ... And on top of that, France is putting one type of intelligence on the top of the others: Mathematics... You're great at Maths ? You can enter in one of the best engineering schools i.e Polytechnique (X), Centrale Paris, etc ... Do anything you want or get your network to get you anything you want ... Other soft skills are rated second... Maybe I should consider going back to studies... ?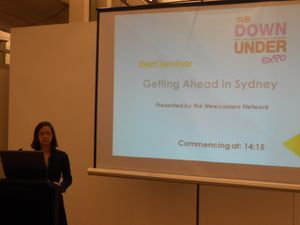 Partager cet article